The concept of coworking spaces has been revolutionizing the way we think about offices, and nowhere is this more apparent than in Whitefield, Bangalore. With the tech boom fostering a plethora of startups and freelancers, the demand for collaborative, flexible workspaces has skyrocketed. Coworking spaces offer the perfect milieu for creativity and innovation, drawing a myriad of professionals seeking to break free from the confines of traditional office spaces. In Whitefield, the vibrant business district of Bangalore, finding the right coworking space is not just about a desk or a chair; it's about joining a community that complements your professional aspirations and lifestyle.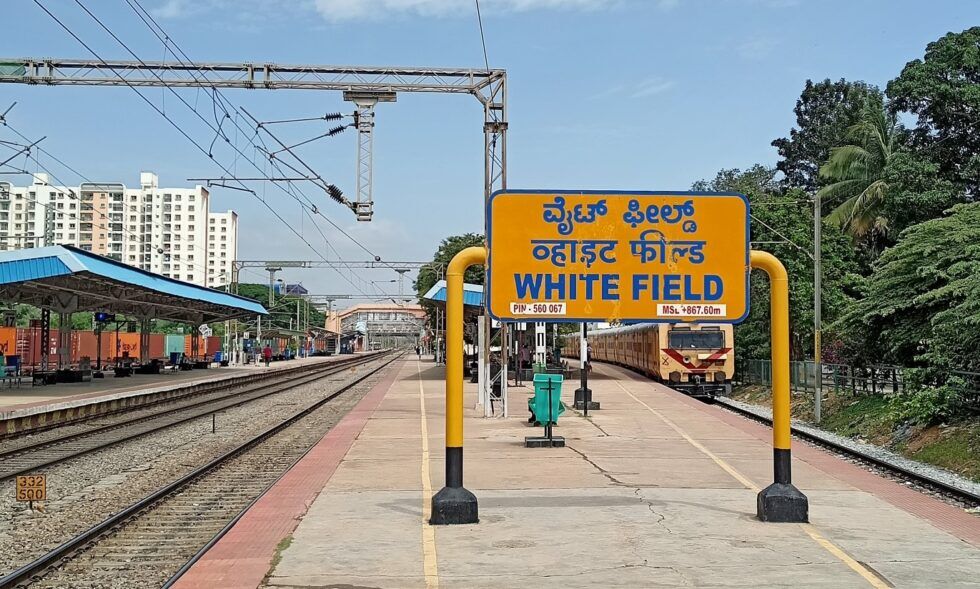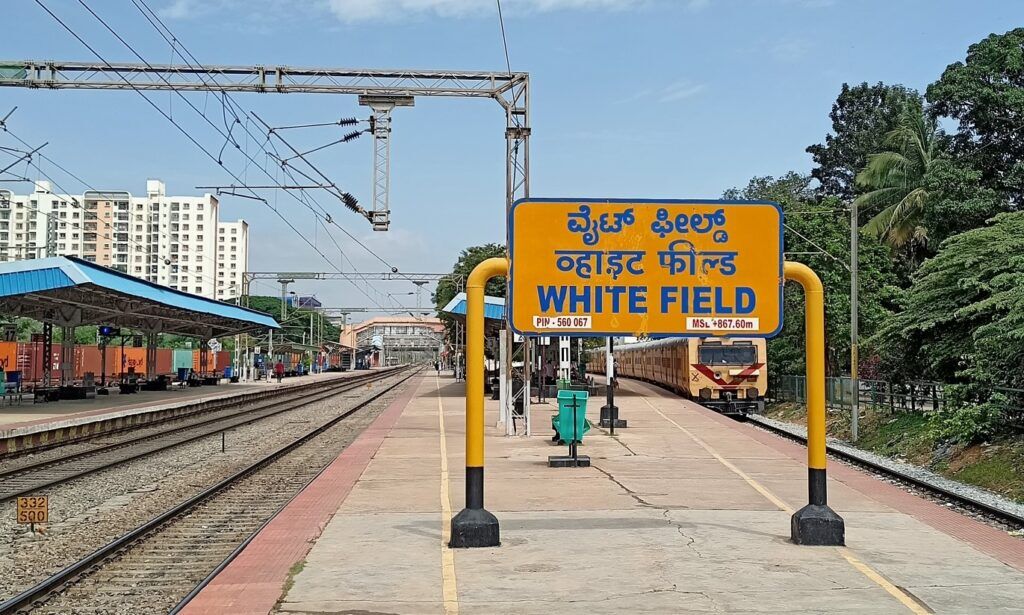 Why Choose Whitefield Bangalore for Coworking?
Opting for a coworking space in Whitefield isn't just a logistical decision—it's a strategic one. Nestled amidst global tech giants and startups, Whitefield presents a thriving ecosystem for businesses. Its strategic location offers excellent connectivity to the rest of Bangalore, while its bevy of shopping malls, restaurants, and leisure spots provide a well-rounded experience for work-life balance. Moreover, Whitefield's unique selling points extend beyond just location and amenities. It's an area synonymous with innovation, offering a community that fosters networking and growth.
Types of Coworking Spaces in Whitefield Bangalore
Hourly Coworking Space
Ideal for freelancers and entrepreneurs on the go, hourly coworking spaces offer the ultimate flexibility. Pay for only what you use—no strings attached.
Day Pass Coworking Space
Day passes are perfect for professionals needing a productive spot for a day. Get access to all facilities without a long-term commitment.
Coworking Space for Weekend
Weekend warriors rejoice! These spaces cater to those who need to burn the midnight oil or hustle on the weekends, in a space that inspires.
Virtual Office in Coworking Space
Establish a presence in Whitefield with a prestigious address and all the benefits of a physical office, minus the actual office space.
Private Office Coworking Space
For teams and individuals who desire privacy, private offices within a coworking environment offer the perfect blend of solitude and community.
Meeting Rooms
Highly equipped meeting rooms in coworking spaces allow you to host clients and team sessions in a professional setting.
Shared Office Space for Rent
Sharing an office space with like-minded individuals is not only cost-effective but also provides a sense of community.
Flexible Workspace Solutions
These workspaces are adaptable and can be customized according to the needs of your business—scale up or down as required.
Dedicated Desk Coworking Space
A dedicated desk in a coworking space gives you a sense of permanence and the freedom to personalize your work area.
Amenities and Facilities at Coworking Space in Whitefield Bangalore
High-Speed Internet
A non-negotiable feature, high-speed internet is the backbone of any coworking space, ensuring you stay connected and productive.
Meeting Rooms
Equipped with the latest technology, meeting rooms in Whitefield coworking spaces make for an impressive setting for all business interactions.
Lounge Areas
Relax, mingle, or just take a break in creatively designed lounge areas that foster casual networking and a change of scenery.
Kitchen and Pantry
Stay fuelled and hydrated with well-stocked kitchens and pantry services, a homely touch to your professional environment.
24/7 Access
Flexibility is key in a dynamic work environment. 24/7 access ensures that your work hours are as flexible as you need them to be.
Reception Services
Professional reception services add to the credibility of your business, managing your calls and visitors with utmost proficiency.
Printing and Scanning
Access to printing and scanning facilities on-site makes for seamless execution of office tasks without any hassle.
Security
Ensuring your safety and the security of your work, coworking spaces in Whitefield are equipped with state-of-the-art security systems.
Networking Events
Regular networking events turn your coworking space into a hub of opportunities, allowing you to connect and grow professionally.
How to Choose the Right Coworking Space in Whitefield, Bangalore
Choosing the right coworking space in Whitefield, Bangalore, can be akin to selecting a business partner. It's a place where you will spend considerable hours and it must cater not only to your professional requirements but also to your well-being. Here's how you can zero in on the perfect coworking space for your needs:
Determine Your Needs
Before you even begin looking, outline what you need in a workspace. Do you need a quiet area for deep focus, or do you thrive in a bustling environment? Will you need access to meeting rooms? Is a private office a must, or will a dedicated desk suffice?
Location is Key
Whitefield is expansive, so choose a location that is convenient for you, your team, and your clients. Consider the commute and accessibility via public transport. Also, proximity to potential business partners, clients, and amenities can be crucial.
Budget Accordingly
Coworking spaces offer various pricing models, from hot desks to luxury private offices. Analyze your finances to understand what you can afford. Remember, the cheapest option may not always be the best in terms of value.
Flexibility and Scalability
If you're a startup, consider whether the coworking space can accommodate your growth. Can you add more desks or move to a larger office within the facility? What is the policy on scaling down if needed?
Amenities and Services
Make a list of essential amenities and check them against what each coworking space offers. Fast internet, printing services, kitchen facilities, and security are typically non-negotiable. However, extras like gyms, relaxation areas, or event spaces can be a significant bonus.
Network and Community
Coworking spaces are hotspots for networking. Find out if the space hosts networking events, workshops, and other community gatherings that could benefit your business.
Top Coworking Spaces in Whitefield, Bangalore
Whitefield, a suburb renowned for its dynamic corporate landscape and spirited startup culture, is dotted with a variety of coworking spaces that cater to diverse professional needs. Here's a look at some of the top coworking spaces that have made a mark:
Share Space stands out with its aesthetically pleasing work environment and cutting-edge amenities. Offering a range of seating options from hot desks to private offices, it suits both individual freelancers and larger teams. Members get access to high-speed internet, conference rooms, and recreational zones.
Location: 88, Borewell Rd, Near Whitefield Post office, Palm Meadows
Features: Ergonomic furniture, event spaces, gaming, and chill zones
Pricing: Starts from INR 5,000/month for a hot desk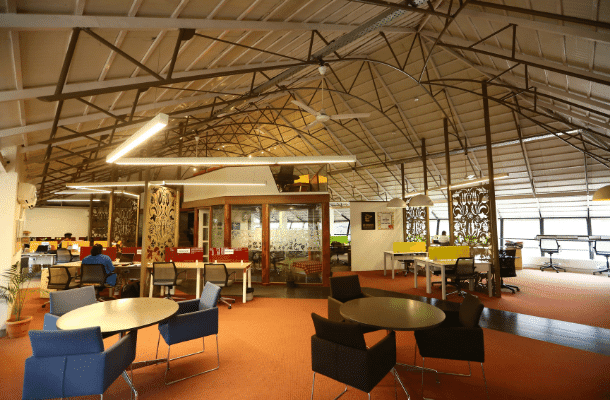 2. WeWork Whitefield
WeWork is synonymous with coworking globally, and its Whitefield space lives up to the brand's reputation. It offers a vibrant workspace design, with an emphasis on creating a collaborative community.
Location: Prestige Shantiniketan, Whitefield
Features: Global network access, custom art, and indoor greenery
Pricing: Private offices start at INR 18,000/month
3. BHIVE Workspace
BHIVE Workspace is the local favorite, known for its budget-friendly yet high-quality spaces. It offers flexibility with its varied membership plans and is ideal for startups looking to scale.
Location: L-148, 5th Main, Sector 6, HSR Layout
Features: Networking events, investor meetups, and mentorship sessions
Pricing: Dedicated desks from INR 7,000/month
4. The Hive Collaborative Workspaces
The Hive blends luxury with professionalism, offering a sleek workspace with an emphasis on comfort and productivity. It's ideal for professionals who appreciate finer details and a touch of elegance.
Location: VR Bengaluru, Whitefield Main Road
Features: Rooftop bar, gym, pool, and premium hospitality services
Pricing: Contact for custom pricing
5. 91springboard
91springboard has established itself as a coworking space that buzzes with innovation and activity. With 24/7 operational hours and a range of amenities, it facilitates a balanced work life.
Location: Mahadevpura, Whitefield
Features: Collaborative environment, community events, and workshops
Pricing: Starts at INR 6,199/month for open desks
6. GoodWorks CoWork
GoodWorks CoWork isn't just about shared desks; it's an incubator and launchpad for startups. With mentorship programs and an investor network, it's a powerhouse for burgeoning businesses.
Location: Whitefield Road, opposite to ITPL
Features: Design thinking workshops, mentorship, and investor connect
Pricing: Starts at INR 5,500/month for a hot desk
These coworking spaces are just the tip of the iceberg in Whitefield. Each one offers unique advantages, and your choice depends on your personal and professional needs. It's worth visiting a few to get a true feel for the environment that will work best for you.
Before making a decision, check out the official websites for the latest pricing and to schedule a visit. You may also find special promotions or trial offers that make the decision easier.
Pricing and Membership Options
Coworking spaces in Whitefield offer various pricing models, from hourly rates to monthly memberships. Expect to find plans ranging from INR 5,000 to INR 20,000 per month, with options to customize based on your requirements.
Networking and Community Events at Coworking Space in Whitefield Bangalore
Community is at the heart of coworking spaces. Regular events and workshops not only foster networking but also contribute to the professional growth of their members.
Getting Started
To get started with a coworking space in Whitefield, research your options, book a tour, and experience the space firsthand before making a commitment.
Frequently Asked Questions about Coworking Spaces in Whitefield, Bangalore
Q: What are the benefits of using a coworking space?
A: Coworking spaces provide flexible work environments with various amenities. They are cost-effective compared to traditional office leases, offer networking opportunities, and come with all the necessary office infrastructure. They can also enhance productivity and provide a sense of community for freelancers and remote workers.
Q: Are coworking spaces open 24/7?
A: Many coworking spaces in Whitefield offer 24/7 access to accommodate the flexible schedules of entrepreneurs and professionals. However, it's important to check with individual spaces as their operating hours can vary.
Q: Can I book a meeting room if I'm not a member?
A: Most coworking spaces allow non-members to book meeting rooms, although members usually receive priority access and discounted rates.
Q: Is there a minimum commitment period for renting a space?
A: Coworking spaces typically offer flexible plans ranging from hourly and daily passes to monthly memberships. The commitment period can vary, so it's best to inquire directly with the coworking space.
Q: Are coworking spaces suitable for all types of businesses?
A: Coworking spaces cater to a wide range of business types, from freelancers and startups to small businesses and even larger corporations looking for flexible workspace solutions.
Q: Do coworking spaces provide internet connectivity?
A: Yes, high-speed internet connectivity is a standard feature in all reputable coworking spaces in Whitefield.
Q: Can I bring my own monitor and desktop computer?
A: Most coworking spaces allow you to bring your own equipment. However, it's advisable to confirm with the management regarding any potential space constraints or additional costs.
Q: What kind of networking opportunities do coworking spaces offer?
A: Coworking spaces often host events such as workshops, panel discussions, mixers, and happy hours that provide excellent networking opportunities. Some also have built-in online communities where you can connect with other members.
Q: Are there any hidden fees I should be aware of when joining a coworking space?
A: While most coworking spaces have transparent pricing, it's always good to ask about additional fees for services like printing, booking of meeting rooms, or access to special events.
Q: How do I reserve a space in a coworking area?
A: Reserving a space can usually be done online through the coworking space's website, via phone, or in person. Some spaces have dedicated apps for booking spaces and managing memberships.
Conclusion
In the heart of Bangalore's tech hub, coworking spaces in Whitefield stand out as a beacon for professionals seeking flexibility, community, and growth. Take the next step in your professional journey with a space that's more than just an office.
Ready to join a coworking space in Whitefield? Contact us today to find your ideal workspace!